In the video above, Vishen shares multiple studies on how the Big Food industry deliberately tries to mislead people on the nutritional value of their products.
The Lies Of The Food Industry
---
We all want to live a healthy lifestyle and take good care of our bodies. We want to look fit and feel good about ourselves in our own skin — today, at the age of 75, and beyond.
But what most people don't know is that it's not willpower that we fall short of in order to achieve that. It's our awareness about food that desperately needs improvement at this day and age in order for us to live long, look sexy, and never fall sick.
The food industry has been bombarding us with distorted messages since our early childhood. We buy products with the intent to take care of our health and we often have no idea why we're putting up weight and feeling low on energy.
So what's really happening here?
Watch the video above where Vishen explains the root cause of our miseducation. He shares why the food industry tries to mislead us and proposes another approach to enhance your knowledge about nutrition.
Freedom From Food
---
As obesity rates rise around the world, WildFit Founder Eric Edmeades says that we can only really tackle the global healthcare crisis as soon as we find "food freedom." But there is one major thing that stands in our way:
FOOD MANUFACTURERS ARE CHOOSING PROFITS OVER HEALTH, AND OUR CURRENT FORMS OF DEMOCRACY ALLOW FOR MAJOR MANIPULATION OF THE LEGISLATIVE PROCESS BY THOSE WHO HAVE PHENOMENAL AMOUNTS OF MONEY.
Her personally underwent a journey to change his relationship with food after battling with low energy, throat infections, stomach cramps, and acne.
After he completed his 30-day experiment to change his eating patterns, he woke up with all of his symptoms gone. He decided to share it with as many people as he could.
And that program became WildFit.
WildFit is a 90-day Quest to radically increase your health and fitness without dieting or exercise. It's all about changing your relationship with food.
Why?
As Eric says,
BY CHANGING ONE PERSON, WE DO TWO THINGS: WE CHANGE THEIR LIFE, AND WE CHANGE THEIR BUYING PATTERNS. AND ONCE WE HAVE CHANGED THEIR BUYING PATTERNS, WE INFLUENCE THE SUPPLY AND DEMAND RELATIONSHIP.
After all, how many of us have our cravings under control? How many of us know what to eat? And how many of us are actually following through?
The food industry has deliberately misled us in order to influence our buying patterns. But we can take the power back by gaining freedom from food.
It also helps you:
Permanently end sugar cravings;
Increase energy and vitality;
Attain glowing, smooth skin;
Get deep restful sleep;
Enhance your food education;
And lose excess weight and keep it off.
Check out the video to hear how Vishen discovered the truth about food, what that truth is, and what he did to change his life.
---
Why Diets Don't Work
The idea that modern diets improve your health is a myth.
When we go on diets, we expect to radically change our life. We want to feel healthier, happier, and fitter.
Unfortunately, that's not what ends up happening most of the time: 95% of people who went on diet programs say it didn't work for them.
The problem is, these people were duped into the
diet myth
.
The diet myth is the idea that to be healthy, you need to eat less, or focus only on a specific food group.
But those restrictions create problems of their own. They don't address the real problem – the fact that we're not getting all the nutrition our bodies really need.
If You Want To Develop True, Lasting Health, Then Join Eric Edmeades, The Creator Of WildFit, Mindvalley's Most Successful Diet Program In This FREE Masterclass, Where You Will Learn:
✅
Uncover the true definition of the word 'diet'.
When you understand this simple fact you'll realize why most diets don't work and what you should do instead to reclaim your health and correct your weight.
✅ Discover the
new health paradigm
Vishen Lakhiani used to get slimmer, fitter and stronger in his 40s than he was at 27,
in just 8 weeks
— without changing his exercise routine or calorie restriction diets.
✅ The
simple science behind why we eat what we eat
, and a simple trick to
curb your cravings
and rewire your brain to eat healthy.
Register Now To Experience A Life-Changing Transformation Of Your Health & Fitness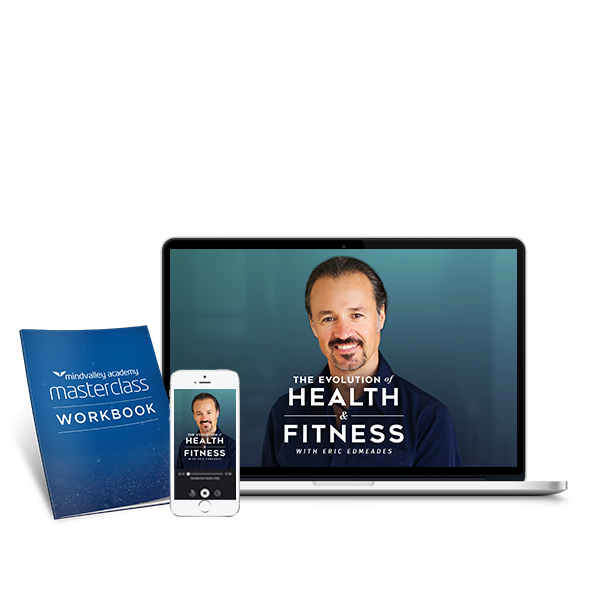 Eric Edmeades Teaches The New Paradigm Of Easy and Effective Health Transformation
Choose a date and time below to tune in to the broadcast in your own local time zone.
[blink_amp_form webinarid="5011753021997056"]
---
Did Vishen's message come to you as a surprise? Share your thoughts with us in a comment!