Marie Diamond, Global Transformational Teacher, and Feng Shui Master share why in this video above.
Is Your House Welcoming Abundance?
---
If we want to attract prosperity into our lives, we need to eliminate the things that are blocking our true potential. And believe it or not, your home could be one of your greatest abundance blocks.
In this video, Feng Shui expert Marie Diamond explains how simple changes in our home can sabotage our manifesting potential or bring more wealth luck in our lives. When our surroundings don't resonate with our desires, we can't bring what we want into being.
Intuitively, we understand how important the home is. It's the place we lay our heads, raise our family, gather our friends, and appreciate the small moments. It's where we work and play. We know the home should be comfortable and welcoming — but there are a few common ways we block abundance.
Just like a river dammed up by stones and sticks, abundance blocks in our home obstruct the flow of success. Feng Shui is all about harmonizing your environment. Even if you practice all the other important areas of personal growth, you might find yourself stilted or falling short.
Feng Shui For Abundance
According to this 4,000-year-old ancient Eastern science, there are three aspects of self-mastery. The first two you're probably already familiar with: mastering the mind and connecting to the universe.
But when the third step isn't followed, it can often feel like your progress has dried up or slammed to a stop. This third step is about harnessing spatial energy.
Yes, you'll still need to take steps in your career in order to attract wealth and prosperity, but good Feng Shui will make you feel like forces are working for you, not against you.
Fortunately, Marie offers simple strategies to remove these obstructions, so prosperity can flow into every room in your life.
Marie explains some of these abundance blocks in the video above and shares strategies to invite more prosperity into your life.
About Marie Diamond
---
Marie Diamond is one of the Western world's most in-demand Feng Shui Masters. Artists like Steven Spielberg or The Rolling Stones, executives of top companies, and some of our generation's greatest teachers like Jack Canfield come to Marie for advice on how to set up their environment for success.
They come to her for her uncanny ability to deconstruct, simplify, and personalize ancient methodologies like Feng Shui.
The Feng Shui For Life Program is a wonderful way to learn about Marie's unique approach to this 4,000-year-old science. She'll coach you on the basics of Feng Shui so you can apply them and enjoy a life of greater ease and purpose.
Get rid of the abundance blocks in your home that are disrupting your personal growth by using these simple laws of Feng Shui in the video above.
---
Learn Five Unique Techniques from Feng Shui & Apply Them to Enhance Your Life, Health & Wealth With Feng Shui Master, Marie Diamond. Sign up for her FREE Masterclass below: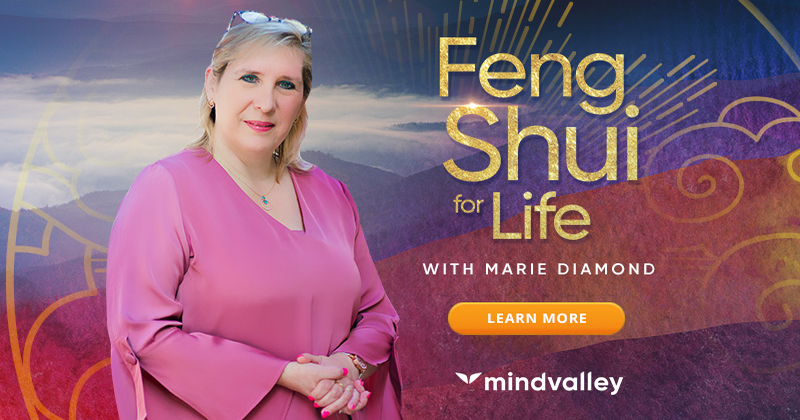 ---
What's the one thing you'll change in your home to attract more abundance? Tell us below.