The Most Valuable Career Skill In The Modern World
Public speaking is the most valuable career skill anyone can have — yet most of us are terrified to take the stage. With advice from masterful speaker and communications expert Eric Edmeades, you can use these strategies, patterns and tricks of the world's greatest orators to market yourself and your business.
What if mastering one skill could help you build instant connections, boost your career, gain a following, and promote a shared dream?
Public speaking has become the most valuable skill anyone can have, whether you're an entrepreneur attracting new customers or an employee giving a presentation to colleagues.
But if the thought of stepping on stage makes your heart race and ties your stomach in knots, you're not alone. Facing an audience scares the average person more than the thought of facing snakes, earthquakes, heights, even zombies.
Billionaire Warren Buffett used to avoid public speaking at all costs until he realized it was holding his career back. World leader and famous orator Winston Churchill used to suffer from a speech impediment. And serial entrepreneur Eric Edmeades, a man who's shared the stage with the likes of Anthony Robbins, Sir Richard Branson, and Bill Clinton, used to not eat for days before a presentation.
But Eric learned to overcome his public speaking fears. Now, he captivates his audience with his charisma and ease on stage — and teaches the students of his program, The Speaking Academy, the best tricks and strategies of the most powerful orators in the world.
This summer, we're bringing him to Mindvalley University where he's going to give a hands-on training on public speaking to our students in Pula, Croatia.
If you would like to see a glimpse of his lessons, he's answering some of the most common questions about public speaking in these three short videos:
1. How Do You Overcome Stage Fright?
Actor George Jessel once said, "The human brain starts working the moment you're born and never stops until you stand up to speak in public." The million dollar question is, how do we overcome our own nervousness so that we remember our vision? How do we make sure our self-doubts don't keep us from giving a great speech?
In this 4-minute video, Eric answers this question with a few simple strategies:
(0:14) — How to turn nervousness into an invaluable asset with this simple distinction;
(0:49) — How to reach into the future to create helpful mental imagery;
(1:51) — Three practical exercises to switch your internal state from anxiety to calm and relaxation.
2. How Do You Construct The Perfect Presentation?
If you want to give the perfect talk or avoid forgetting what you want to say, your presentation needs the right structure. And by applying the practical techniques Eric shares in this 3-minute video, you can navigate your points effortlessly, ensuring that you feel natural and the audience perceives you as confident.
(0:06) — How to create a visual map of your talk to make you more confident on stage;
(1:27) — The same technique world-class Tony Robbins uses to "cheat" his way to a perfect presentation;
(2:21) — How to make instant progress towards your goals in public speaking without facing an audience.
3. How Do You Captivate Your Audience?
The art of persuasion rests on your ability to captivate and establish trust with your audience. While it sounds like a difficult feat to accomplish, there are simple tactics and patterns great orators follow that you can easily adopt to lead your audience:
(0:12) — How to establish rapport with every single audience member;
(1:25) — The powerful speech pattern that every great orator (including Martin Luther King Jr.) follows to build suspense and inspire people;
(3:35) — How to present yourself authentically so that you can create influence in any area of your life.
You no longer have to allow nerves to keep you from delivering the power of your vision. With these three short videos, you can start to master the most valuable skill in the modern world.
---
Most people think that learning is the key to self-development
It's how we were raised – when we were young, we studied algebra, read history, and memorized the names of elements on the periodic table.

But once you grow up and experience life, you realize that you can't 'learn certain things – like personal growth.

Vishen Lakhiani, founder of Mindvalley and New York Times Bestselling author, discovered that the key to self-development was not to 'learn', but rather, to 'transform'.
If You Want To 'Transform' And Are Ready To Accelerate Your Own Personal Growth, Then Join Vishen Lakhiani's FREE Masterclass, Where You'll Learn:

✅ The Framework For Flow: The 3 Big Pillars of Life which will help you to rapidly grow on autopilot, so personal development happens naturally.

✅ How you can harness the energy surrounding you to automatically attract the tools you need to unlock your true potential, allowing you to easily make transformative shifts in your life.

✅ Apply the #1 principle to eliminate obstacles in your life, and subsequently show up as your best self and make a positive impact on the world.
Discover The Proven Framework for Extraordinary Transformation and a Brand New You in 2020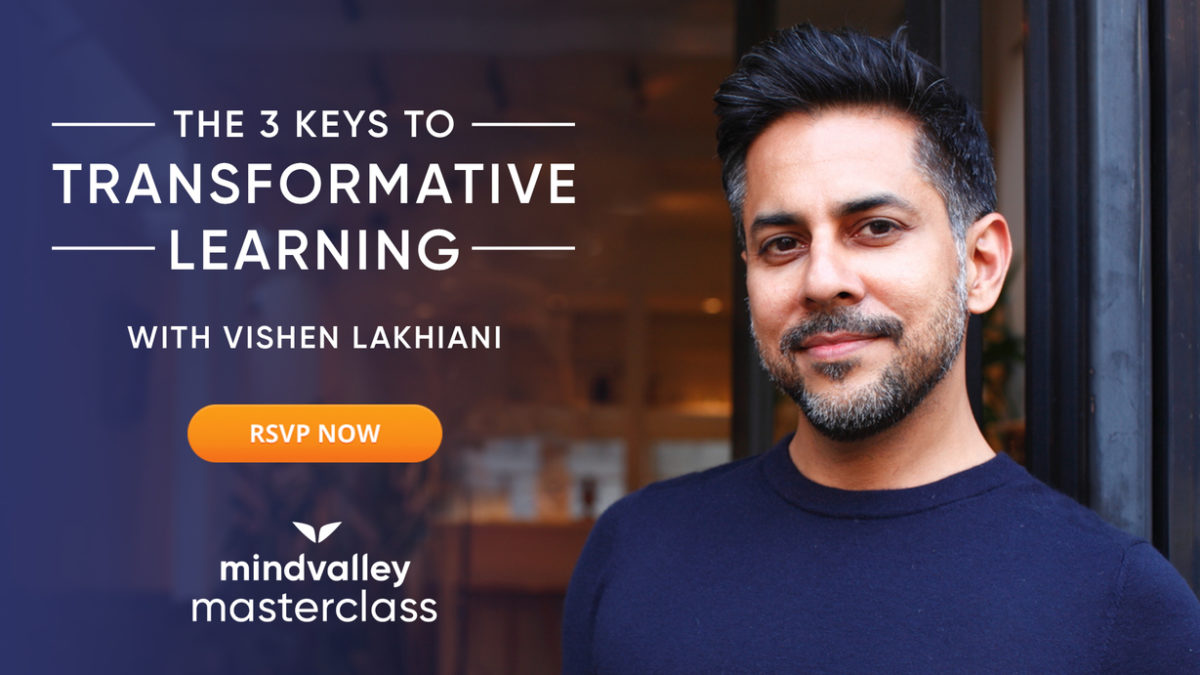 What's your biggest fear when it comes to public speaking? Share in the comments below.