Have you ever wanted to learn new ways of enhancing your mind, body, and performance from the world's best teachers in personal growth? Say goodbye to resistance and open your life to becoming a top performer of excellence.
We've received several questions from our community about Hero. Genius. Legend Quest with Robin Sharma. Watch the video or read on to learn more about this transformative program.
About The Video
---
In the video, Your Biggest Questions About Rob Sharma's Hero. Genius. Legend Quest, Vishen Lakhiani explains why associating a college degree with success is nonsense, why behavioral psychology is key to habit formation, and how you can become a legend in your field. He talks about:
Why the Quest is deliberately made 66 days long
What genetics and habits have to do with being a genius
The secret behind waking up at 5am
When you watch the video above, you'll get an idea of this transformational program and learn how the principles of the 60-minute student, the 5am club, and the traffic university can enhance your performance at work and in life.
Who is Robin Sharma?
---
Robin Sharma is one of the world's Top 5 premier speakers on Leadership and Personal Mastery. He is the author of the international best-selling titles, The Monk Who Sold His Ferrari and The Leader Who Had No Title. 
As a presenter, Sharma is known to deliver compelling speeches that provoke insights that lead to individuals to perform at their best. For nearly 20 years, he has worked with international brands ranging from Nike, Microsoft, FedEx, NASA, and Yale University.
He is also known for his work with coaching athletes, celebrities, and other world figures such as Richard Branson, Bill Clinton, and Shaquille O'Neal. Sharma's main motivation is to help others become top performers in their field with his leadership and guidance in the Hero. Genius. Legend Quest.
Why is the Hero. Genius. Legend Quest 66 days?
---
The Hero. Genius. Legend Quest is 66 days because it teaches Habit Installation. On average, it takes approximately 2 months (60 days) for new habits to set in.
After 66 days, new behavior becomes automatic and this is usually the standard time for people to pick up new habits. Of course, some others might take a few weeks more like 70-80 days, there is no magic number. Successful habit installation widely depends on the person's behavior and circumstances.
Can I Become a Genius?
---
Of course, you can! We are talking about geniuses, in terms of people who are every day heroes. Heroes live their day-to-day lives in how they come across to the world. They could be entrepreneurs, artists, office workers, teachers, or anyone who exudes discipline in what they do and are sailing through life. This could be you.
Robin Sharma said that 81% of top performers have a to-do list and 88% of them read at least 30 minutes everyday. In Hero. Genius. Legend, Sharma explores what geniuses do on a daily basis and how you can adapt these habits to become a top performer.
Why Should I Take Hero. Genius. Legend?
---
This masterclass taught by Robin Sharma is for anyone who wants to perform at their best of ability. Imagine, investing the next 66 days exclusively on yourself and removing barriers in your life, while adapting new habits that will make you more successful in whatever you do.
It's just not for entrepreneurs and business executives, you should take this Masterclass because you are bettering yourself for the future. Forget about genetics or your college degree, the one thing that determines your success is how you install these powerful habits taught in the Hero. Genius. Legend masterclass.
How Much Time Should I Commit?
---
This masterclasss takes it design from behavioral psychology. The goal is to train your brain to adapt to new habits in 66 days. You don't have to wake up at 5 am to take this class. It's not that specific time, it's the time you put into new ways of thinking. Journaling is one of the main exercises in the masterclass and you should be able to commit at least 20-30 minutes a day.
Think of it this way: the next 66 days is paving the way for the rest of your life. Train your brain to get rid of those nagging voices trying to stop you from doing things. By minimizing that voice of resistance, you can start functioning at the top of your game.
---
Want to learn the secret recipe for creating an impactful life Join one of the world's most trusted leadership experts, Robin Sharma, in Hero. Genius. Legend, a 66 day challenge to super perfomance.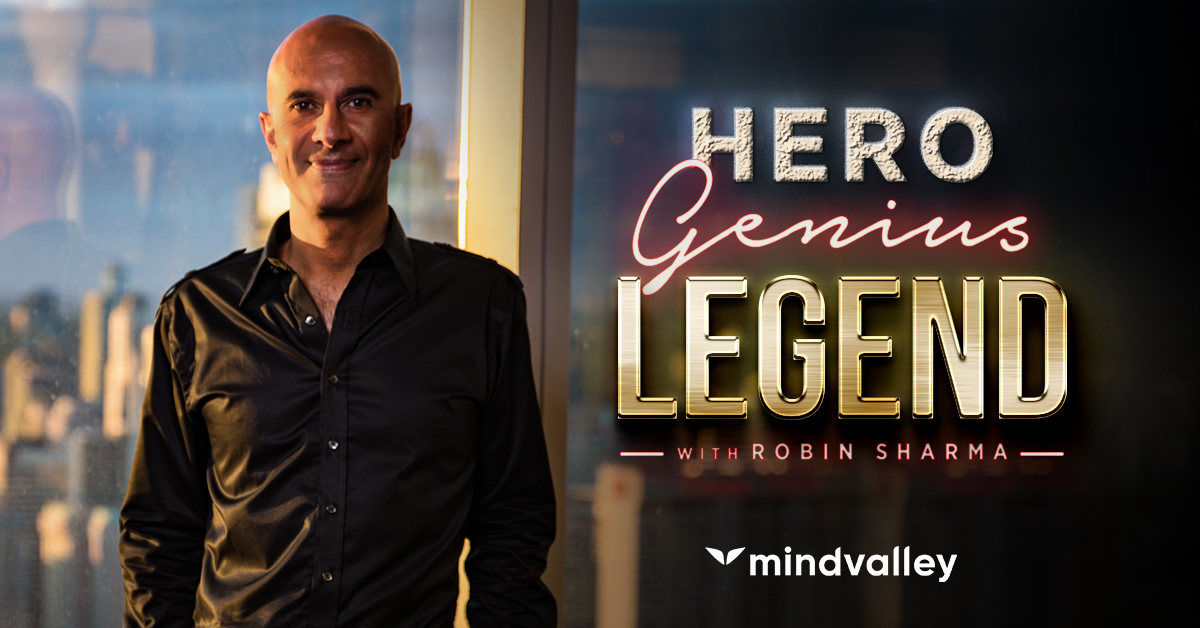 ---
What's your number one reason for enhancing your performance?
Share it with our community by posting your comments below!