Everything You Wanted To Know About The Duality Program With Jeffrey Allen
Looking to learn about how you can apply energy techniques in your everyday life? Well, in the video below, Master Energy Healer and Spiritual Teacher, Jeffrey Allen, explains everything you need to know about the Duality Program.
These days, so many of us are overworked, overstimulated, stressed out, and out of touch. We're out of touch with our loved ones. But more importantly, we're out of touch with ourselves.
The best way to dive back into what's most important at the very core of who we are? Energy work.
And Jeffrey Allen is just the teacher you need to overhaul your energy and get back on track.
Who Is Jeffrey Allen?
---
Jeffrey Allen is a world-renowned energy healer and spiritual teacher who specializes in self-discovery, personal growth, and profound energy healing.
He's a seasoned veteran on the Mindvalley stage and we're excited to be able to introduce his new Mindvalley Masterclass, the Duality Program.
What Is The Duality Program?
The Duality Program is designed to help you tap into your full energetic potential.
With it, you can raise your vibration, attract abundance, and truly make an impact on the world around you.
And by learning to listen and subsequently tap into these energetic frequencies, we can finally being to take control over our life circumstances.
It's not easy, but the step-by-step guidance offered by Jeffrey Allen is all you need to take you to new heights in your personal development.
What Do I Need To Know About The Duality Program?
Every part of you starts with your spiritual fitness. One of the big benefits of working with your spiritual fitness is that it helps you unlock your transcendence. It's the highest level you can achieve with your awareness. —Jeffrey Allen
In this video, Vishen Lakhiani sits down the Jeffrey Allen to discuss what's included in the groundbreaking Duality Program.
So, what can you expect from this program? Here's what you'll encounter in the first four weeks of the program:
Energy Awareness and Personal Presence

Mental and Intuitive Clarity

Healing and Energizing Your Body

Empathy and Healthy Personal Boundaries
The trick to making the Duality Program work for you? It's all about practice. Practice, practice, practice.
Jeffrey Allen encourages those who want to use the Duality Program to take it slow. Don't rush through each lesson in one sitting. Take time to work through the exercises and put into practice what's being taught.
In fact, Vishen takes this a step further by suggesting that you spend a full week on each set of lessons to help them really sink in and do their work.
Knowledge is power. But being able to put knowledge into action is a superpower.
Take things to the next level with the Duality Program with Jeffrey Allen.
So, what would you like to learn about energy work? Have you ever worked with an energy healer before? Share it with us in the comments below.
---
Discover How To Tap Into Your Energy To Attract Synchronicities And Raise Your Vibration
Join The Healer's Healer Jeffrey Allen In This Program That Guides You Through The Most Amazingly Effective Energy Secrets To Rapidly Overcome Blocks In Your Everyday Life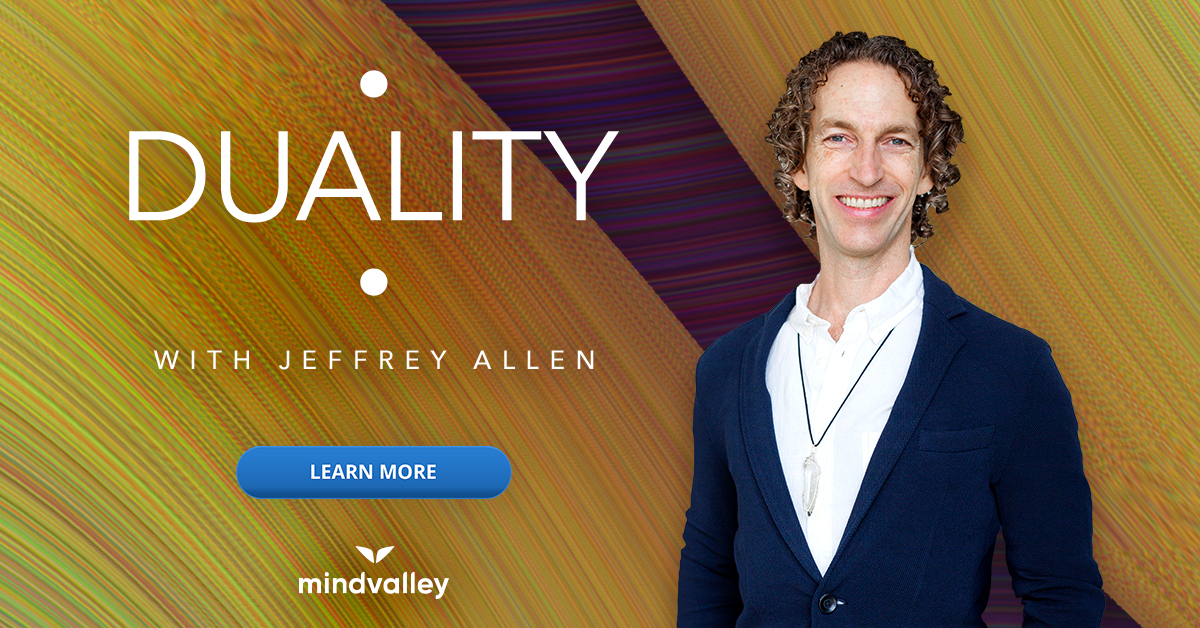 ---